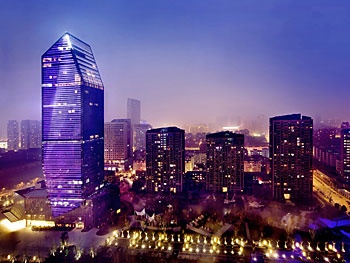 Situated close to Wanda Plaza, the Nanyuan Universe Deluxe Hotel (Nanyuan Huanqiu Jiudian) is a five-star hotel within easy reach of the railway station and the airport.
Opened in 2010, this 53-story Ningbo hotel houses various comfortable rooms equipped with satellite TVs, air conditioning and internet access.
In terms of dining, guests can enjoy both Chinese foods and dishes of international flavors.
For business convenience, this hotel provides a multifunctional hall and variously-sized conference rooms, coming outfitted with advanced audio-visual equipments.
Finally, guests can make full use of the on-site fitness and recreational facilities for relaxation.